Latin American Cinemateca of Los Angeles presents its inaugural program:
CINE NEPANTLA   
Celebrating liminal spaces in film, music, and poetry    

Saturday, November 3 at the Vincent Price Art Museum    
Featuring the documentary film The Rise and Fall of the Brown Buffalo    

1:00 pm   Performances

                             San Cha, Xitlalic Guijosa-Osuna, Féi Hernandez*
2:00 pm   Screening
                             The Rise and Fall of the Brown Buffalo, directed by Phillip Rodriguez

3:00 pm   Q&A and Discussion
                              Moderator: Gilbert Cadena
                              Guests: Phillip Rodriguez, Xitlalic Guijosa-Osuna, Féi Hernandez

Latin American Cinemateca of Los Angeles (LACLA) is proud to announce the inauguration of Cine Nepantla, a free annual program that seeks to create a liminal, in-between space of transformation made possible through the exposure of multiple forms of knowing and being.
The program will take place on Saturday, November 3 at the Vincent Price Art Museum and will include a screening of Phillip Rodriguez's The Rise and Fall of the Brown Buffalo (2018), a Q&A with the director, live music, and a spoken word performance.
About Cine Nepantla:
The concept of Nepantla refers to the experience of living in-between two or more cultures. Nepantla originated in the sixteenth century from Nahuatl, an Uto-Aztecan language, to describe the "in-between-ness" Mexicas (Aztecs) felt under Spanish colonization. The concept was further developed by Chicana theorists, most notably Gloria Anzaldúa who described Nepantla as a site of transformation where multiple and different perspectives come into contact. According to Anzaldúa, it is through the exchange of ideas, tenets, and identities that actual change in the world has the potential to occur. Building from this concept, Cine Nepantla aims to create a space in which meaningful dialogue among audiences of different socio-economic backgrounds, races, ethnicities, ages, abilities, genders, sexualities, nationalities, and religions can take place and effect change.
Film Synopsis:
The Rise and Fall of the Brown Buffalo is a documentary film about the life of radical Chicano lawyer, author and countercultural icon, Oscar Zeta Acosta — the basis for the character Dr. Gonzo in "Fear and Loathing in Las Vegas," written by his friend, legendary journalist-provocateur Hunter S. Thompson. Channeling the spirit of the psychedelic sixties and the joyful irreverence of "Gonzo" journalism, the film shows Acosta's personal and creative evolution play out against the backdrop of a society in turmoil. Actors Jesse Celedon and Jeff Harms portray Oscar Zeta Acosta and Hunter S. Thompson, while an ensemble of performers inhabit a collection of friends, foes, and fellow travelers in a series of playful recreations that go beyond a mere presentation of facts and point us toward a deeper truth.
Watch Trailer: https://www.pbs.org/video/official-trailer-uem9qc/
Director: 
Phillip Rodriguez is an award-winning documentary filmmaker. His last four films for public television, broadcast in primetime, have received wide acclaim.
In 2002, Rodriguez founded City Projects, a production company whose films and educational programs challenge ideas about race and diversity in America. Rodriguez' documentary films bring to light the complexities of Latino culture, history, and identity at a time when our nation's demographics reflect unprecedented growth in the Latino community and the concomitant demand for relevant storytelling.
Ruben Salazar: Man in the Middle, RACE 2012, Latinos '08, Brown is the New Green: George Lopez and the American Dream, Los Angeles Now, Mixed Feelings: San Diego/Tijuana, Manuel Ocampo: God is My Copilot, and Pancho Villa & Other Stories. 
Not limited to film, Rodriguez wrote the story and title song for the Grammy-nominated "Papa's Dream" by Los Lobos. He also founded, published, and edited Avance, a national Latino magazine of arts and culture, as well as Esencia, a San Francisco Latino magazine of arts and culture.
Moderator:
Dr. Gilbert Cadena is a Professor in the Ethnic and Women's Studies Department at California State Polytechnic University, Pomona where he teaches classes on Chicana/o/x Studies. He is a sociologist with an emphasis in social inequality, religion and urban studies.  As a strong advocate of experiential learning,  he incorporates community engagement in all of his courses and teaches a variety of service learning and internship courses. He maintains partnerships with a variety of community-based organizations throughout Southern California.  He is co-editor of Old Masks, New Faces: Religion and Latino Identities and has published on Latinos and religion, Dia de los Muertos and community-based pedagogy. He has co-organized the annual Día de Los Muertos celebration for the past 24 years at Cal Poly Pomona. Dr. Cadena has served as Chair of the Ethnic and Women's Studies Department and the Director of the Center for Community Engagement. 
Musical Performance:
San Cha is a singer-songwriter known for her explosive, visceral and emotional live performances. Her name is derived from the Spanish word 'sancha' which translates to 'mistress,' and is also a reference to the title of 'San' given to male saints in the Catholic tradition.  
https://elsancha.bandcamp.com/ 
Spoken Word Performance: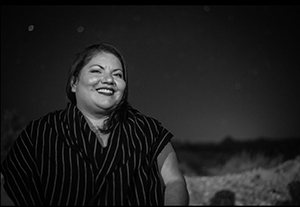 Xitlalic Guijosa-Osuna is a Southeast L.A. Michoacana-Sinaloense, Mexicana poeta and visual artist. She is part of SELA's Proyecto Vecindad, a community, artist and activist collective. She is the owner and creator of Tarjetitas con Amor by XGO, greeting cards that represent her community as well as her family. She writes and prints about Guayabas, her Madre, her grandmothers, domestic violence, and memories. These art mediums have become her outlet to heal from trauma and has helped her connect with the world. instagram.com/xitlalic.
Féi Hernandez is a formerly undocumented immigrant from Chihuahua, Mexico. They are a performing poet and interdisciplinary artist, facilitating a poetry cohort of queer writers of color in the Los Angeles Area. They are a VONA (Voices of our Nations Foundation) fellow and have a BA in American Studies from Dickinson College. Currently a creative writing and art teacher and Family Literacy coach at Century Community Charter School, the middle school they attended, in Inglewood, California. Additionally works as a full time reiki Master that works with communities of color across the Los Angeles area.
FREE Admission & Open to All Ages
Parking at Lot 4 on the ELAC campus: located at the corner of Collegian Avenue and Floral Drive; 5 minute walk to museum.
* Féi Hernandez will be replacing Yosimar Reyes due to a scheduling conflict
CINE NEPANTLA IS MADE POSSIBLE IN PART BY:
WHEN
November 03, 2018 at 1pm - 3:45pm
CONTACT
Marisa Hicks-Alcaraz ·